Cotopaxi Bataan 3L Fanny Pack Review
The Bataan is a simple 3L fanny pack that comes in vibrant colors chosen by the person who sews your bag together. Simple, functional, made with high quality remnant materials.
---
Material Choice:Sub-Par Satisfactory Excellent
Durable yet lightweight ripstop nylon shell fabric
Build Quality:Sub-Par Satisfactory Excellent
Cotopaxi make great bags by hand, have done for a while now. Excellent sustainability and human rights ethos at this company.
Water Resistance:Sub-Par Satisfactory Excellent
Internal Organization:Sub-Par Satisfactory Excellent
Just one 3L pouch with a couple little inner spaces to put small things.
Carry Comfort:Sub-Par Satisfactory Excellent
Adjustable strap for hip, over the shoulder and cross body wear.
Doesn't Look Weird:Sub-Par Satisfactory Excellent
Each colorway is totally unique, put together by the person who builds your bag!
---
---
Other Bags to Check Out:
The Day Sling from Aer is a stylish smaller sling with a bunch of organization for minimal daily carry.
The Everyday Sling from Peak Designs is a truly innovative, functional and delightful little sling with an insane number of thoughtful features for the size.
A very sturdy and functional sling for a very affordable price, the Metromonger sling from Greenroom 136 is one every sling-person needs to know about
The Go packable backpack from Aer definitely provides more than most packable backpacks.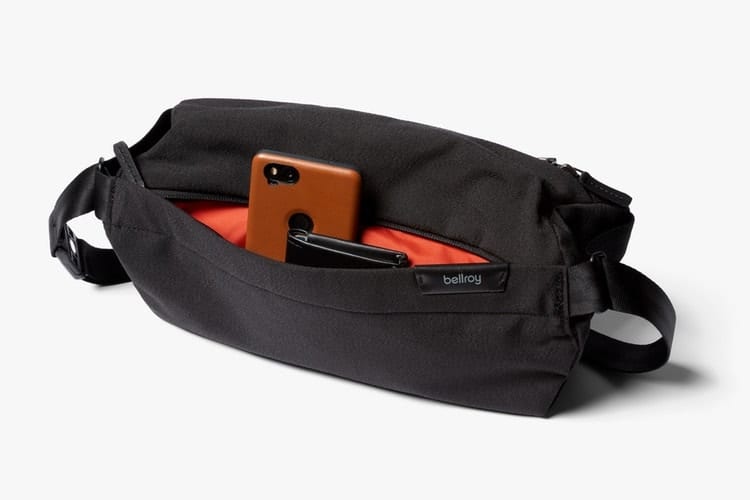 My favorite entry-level sling, Bellroy's Sling is thoughtfully conceived and built with delightful, rugged materials. But it's the simplicity of this bag that keeps me coming back to it.