Heimplanet Monolith Weekender 40L Review
The Monolith Weekender from Heimplanet is one of my favorites because it is very durable and simple. Carries all your shit, and comfortably!
---
Material Choice:Sub-Par Satisfactory Excellent
840D and 1680D ballistic nylon. YKK zips. Custom hardware.
Build Quality:Sub-Par Satisfactory Excellent
Lining feels great. External fabrics are excellent. Buckles are custom made. Heimplanet make really great stuff.
Water Resistance:Sub-Par Satisfactory Excellent
PU coating. Zips aren't sealed.
External Access:Sub-Par Satisfactory Excellent
Two external pockets (top and front of pack). I could do with a water bottle pocket, but some of my water bottles fit inside the top pocket.
Internal Organization:Sub-Par Satisfactory Excellent
Laptop pocket, a couple pouches, MOLLE strapping to attach pouches inside and out.
Carry Comfort:Sub-Par Satisfactory Excellent
Don't know why, but this sucker is COMFORTABLE. At least on my 5'10" frame. The shoulder straps are excellent.
Doesn't Look Weird:Sub-Par Satisfactory Excellent
In a world of more popular, trendy travel bags, this one is the real deal and it keeps that realness in its materials and aesthetic. Really love this bag, personally.
Extra Score:Sub-Par Satisfactory Excellent
Giving it an extra point just because it's honesty and values shine through really clearly.
---
---
Other Bags to Check Out:
The Stor backpack from Trakke is a lovely 30L pack for travel and gear moving.
The Atlas Executive Holdall from Waterfield is an excellent large-ish capacity shoulder bag designed to help you shift seamlessly from tech gear to gym gear.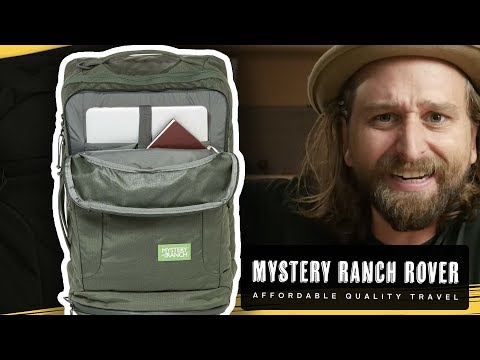 Is this just, like the most quality built affordable carry-on travel backpack? It just might be.
A very functional eco-friendly bag, the Wayks One expands and compresses into multiple different functions, making it a great bag for daily and travel use.
A very stylish and functional bag for both urban and outdoor use that does not let us down in organization, durability and thoughtful design.