Pakt One Travel Bag Review
The Pakt One travel bag is a stylish and extremely well thought through over-the-shoulder bag for conscientious travelers.
Dignified, stylish look — a bag for big boys and girls.
Great materials — this bag feels great to touch and use.
Decent organization — multiple sections to the main clothing compartment, lots of pockets on the bag. However, I wish there were a little more dimension built into the external pockets because they can be challenging to get in and out of when the bag is fully packed.
Only over-the-shoulder carry — I definitely prefer a hands-free backpack style when I travel.
---
Material Choice:Sub-Par Satisfactory Excellent
Listen, to some people this material is just going to feel like the best combination of honest materials.
Build Quality:Sub-Par Satisfactory Excellent
The materials and how they've designed binding those materials together is really lovely on this bag. And durable as a mthrfkr.
Water Resistance:Sub-Par Satisfactory Excellent
The black nylon version has water sealed zips.
External Access:Sub-Par Satisfactory Excellent
Really solid external access. Especially for a duffel. If the two front pockets had a little more dimension I'd bump the score up on this one.
Internal Organization:Sub-Par Satisfactory Excellent
I think the clamshell / two-sides each with a zipper on top format is just really lovely in travel. Security pockets inside the bag as well.
Carry Comfort:Sub-Par Satisfactory Excellent
Doesn't Look Weird:Sub-Par Satisfactory Excellent
The aesthetic of this thing is one of my favorite in the whole world of bags, let alone duffels.
---
---
Other Bags to Check Out:
The Allpa 35L travel pack from Cotopaxi is a well designed carry-on backpack with security features, solid organization and durable materials.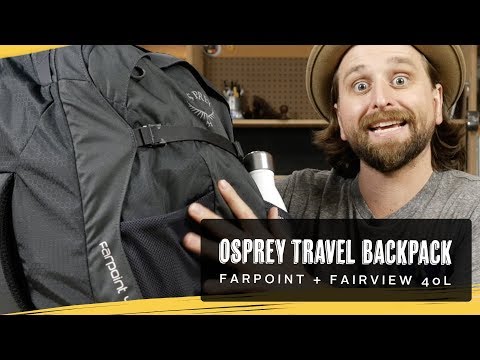 The Farpoint and Fairview 40L travel packs from Osprey are solid one bag travel bags with a little less thrills than other bags in similar sizes.
The Aeronaut from Tom Bihn is an excellent duffel/backpack conversion bag with minimal organization and insanely durable materials and construction.
One of the internet's most beloved backpacks due to its accessibility, organization, build quality and capacity.
Expensive, but it's got an amazing warranty. A simple, understated, powerful bag that will gladly see you through anything in life.