Tortuga Setout Divide Travel Backpack Review
The little brother to the Tortuga Setout, the Setout Divide from Tortuga is a full-featured bag for the style-casual modern minimal traveler.
Great harness system — really comfortable and well built harness system keeps your load comfortable.
Lots of organization — great tech pouch, laptop compartment and quick access pockets. Makes getting in and out in transit quite easy.
Expandable capacity — it expands and contracts to make the bag look a little tighter when it's not fully packed out.
Ultimately a great bag to use in travel and just the right size for some of us.
---
---
---
Other Bags to Check Out:
The X25 from RiutBag is an utterly functional travel and daily conversion backpack that also has an important security feature.
A really solid feeling bag with lots of pockets both inside and outside the bag and enough capacity for the minimal traveler.
This is the bag that started it all for me. The Carry On backpack from Minaal is one of the professional traveler's best friends with its sleek design, killer materials and medium sized capacity for minimal travel.
The Topo Travel bag has a playful style, which I like a lot, but it is very serious about being a great travel bag. This is a classic.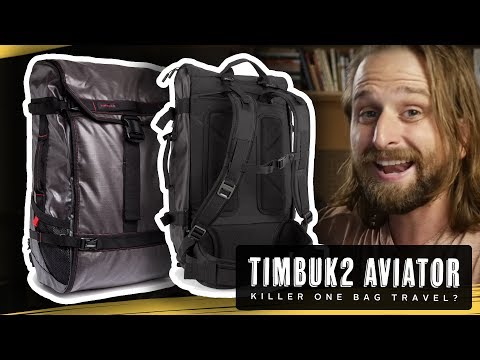 A medium-large sized travel bag with sturdy, rigid outer material, a couple external pockets and a removable internal divider that makes for actually a pretty interesting way of accessing things in transit.