Breton Modern Day Briefcase Backpack Review
"Grown Up. Organized."
A thoughtfully designed backpack for modern career professionals who want a classy-casual aesthetic, rugged materials and solid organization.
Things to know about this bag: 
Really killer looks. You don't get this kind of style everywhere.
Solid heritage materials. 10oz waxed cotton, YKK zips, leather that breaks in and customizes to how you carry (leather sourced from a very prestigious Italian tannery).
Solid internal organization. Lots of spots to slide a charger, a notebook, the phone, etc.
I love the double handle on top. Use those things countless times a day.
Capacity may be a bit tight for some (suitable for only the most minimal lunchboxes).
---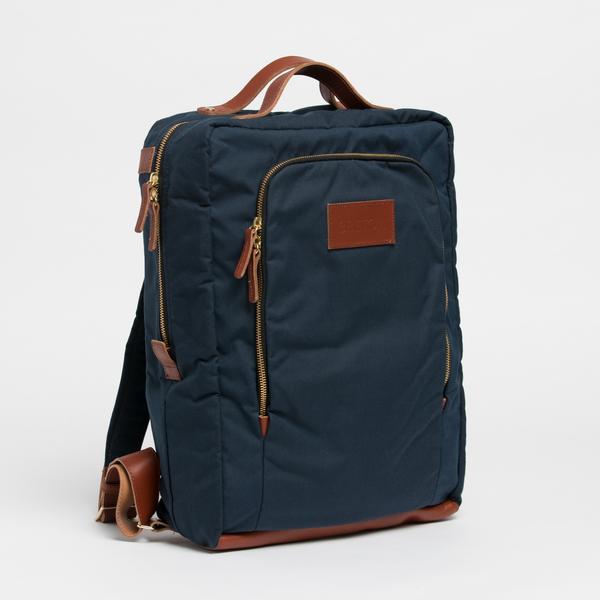 This look for a bag goes with a TON of different kinds of clothing styles. #adulting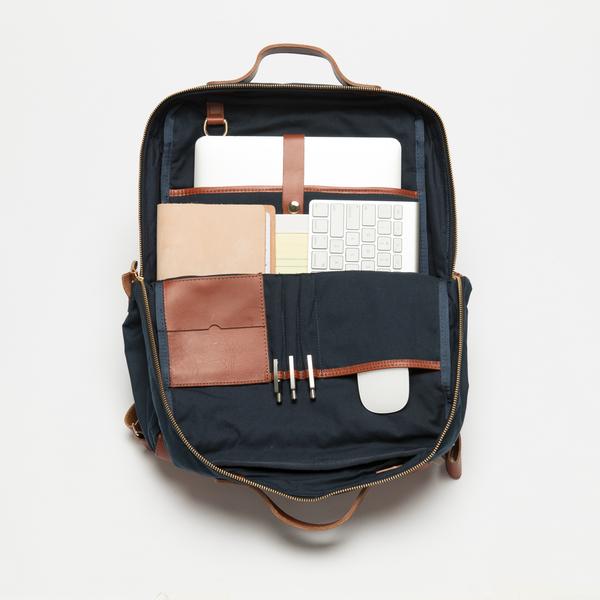 2 main compartments: front panel, main compartment. Both have several pockets built into the bag's walls. Both also feature some decent space for items not stored in pockets.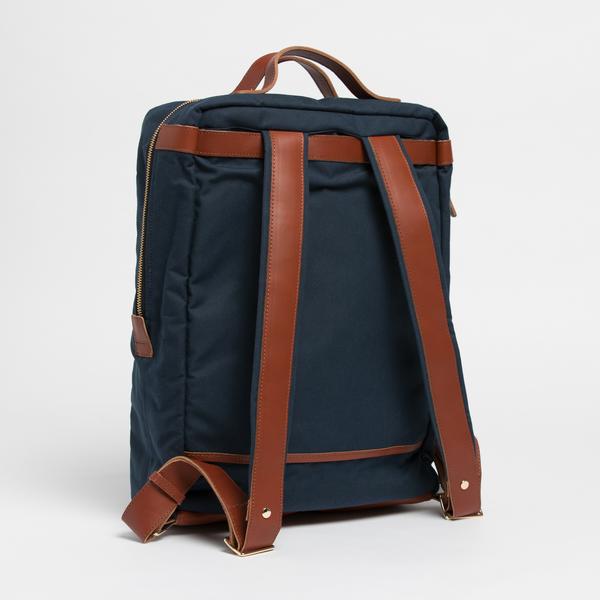 No padding or mesh to keep you from sweating. (A deal breaker for some.) I didn't have any problems, however, and enjoyed the playful stylishness of this bag when it's on.
---
Material Choice:Sub-Par Satisfactory Excellent
10oz waxed cotton, YKK zips and leather tastefully chosen from an old and prestigious leather tannery in Italy. The waxed canvas will break in over time, is re-waxable, etc. The leather handles breaks in over time, feel really good in the hand eventually.
Build Quality:Sub-Par Satisfactory Excellent
Solid. Solid (and sexy) zips. Materials speak for themselves. Thin leather piping on the internal pocket edges feel both nice and like they could be improved.
Water Resistance:Sub-Par Satisfactory Excellent
The waxed canvas can take quite a bit of weather. The zips aren't sealed, however, so you don't want to be outside in the rain with this thing for very long.
External Access:Sub-Par Satisfactory Excellent
Big front pocket and main compartment are the only two places to access on this bag. I don't feel like I'm missing anything since the internal org is so good. No external water bottle.
Internal Organization:Sub-Par Satisfactory Excellent
So. Much. Internal. Organization. This is where this bag really shines in use. Lots of internal pockets to organize your doo-dads and dongles however you see fit. It's lovely to use a bag that doesn't need much for internal pouches.
Capacity:Sub-Par Satisfactory Excellent
Comes in two sizes. On the LARGE bag, the main compartment has ~ 15L capacity. Enough for a couple big books, or a large wool sweater and a water bottle along with your computer in the built in sleeve and some tech gear in the pockets on the front internal face. Definitely not a "fit everything you MAY need" kind of bag; more of a "just the essentials" kind of pack. Gets better to use when it's not totally packed out too.
Carry Comfort:Sub-Par Satisfactory Excellent
Straps are satisfactory. No padding or mesh on shoulder straps or back panel, but in use I found it to carry well, especially when you consider how "grown up" this bag helps you appear to be.
Extra Score:Sub-Par Satisfactory Excellent
Little extra score here because it's a small team, very focused and thoughtful design, and executed solidly from start to finish.
---
---
---
Similar Highly Rated Products: