Tom Bihn Aeronaut 30 + 45 Review
The Aeronaut from Tom Bihn is an excellent duffel/backpack conversion bag with minimal organization and insanely durable materials and construction.
Tom Bihn makes two Aeronaut bags — the 30L and the 45L. These bags are excellent for any traveller who a). wants a good bag that's going to last forever, b). doesn't need a laptop or tech organizer built into their bag.
These bags have an innovative way of segmenting the main compartment into multiple sections. A nice way to organize your stuff. It's completely customizable, so you can break down the segments if you want.
Basically, think of these guys as duffel bags with backpack straps. Duffels are great because you simply have a large space to fill up with clothes But the difference is 1. they have a good deal of customizable internal segmenting for organization (a major improvement over basic duffel bags), and 2. you can carry them on your back!
There is, however, no tech organization. You can put your laptop in with your clothing, and you can use some accessories and packing cubes to organize some tech stuff, but there's nothing built into the bag, per se.
And it needs to be said: these suckers are built to last. The fabric is intense, the YKK zippers are burly and sealed for water resistance. You will likely own this bag for your entire life without it breaking down.
The 45L is massive. My wife often travels with it because it's large enough to fit her own clothes and our 1 year old baby's clothes as well. So, if you need TONS of capacity, go for the 45L, otherwise I recommend the 30L because it's plenty roomy for myself.
My personal take: If you don't need tech stuff while you travel, this is one of the best options out there. Massive capacity, excellent build quality, easier to travel with than a roller bag.
---
Material Choice:Sub-Par Satisfactory Excellent
Build Quality:Sub-Par Satisfactory Excellent
Water Resistance:Sub-Par Satisfactory Excellent
External Access:Sub-Par Satisfactory Excellent
Internal Organization:Sub-Par Satisfactory Excellent
Carry Comfort:Sub-Par Satisfactory Excellent
Doesn't Look Weird:Sub-Par Satisfactory Excellent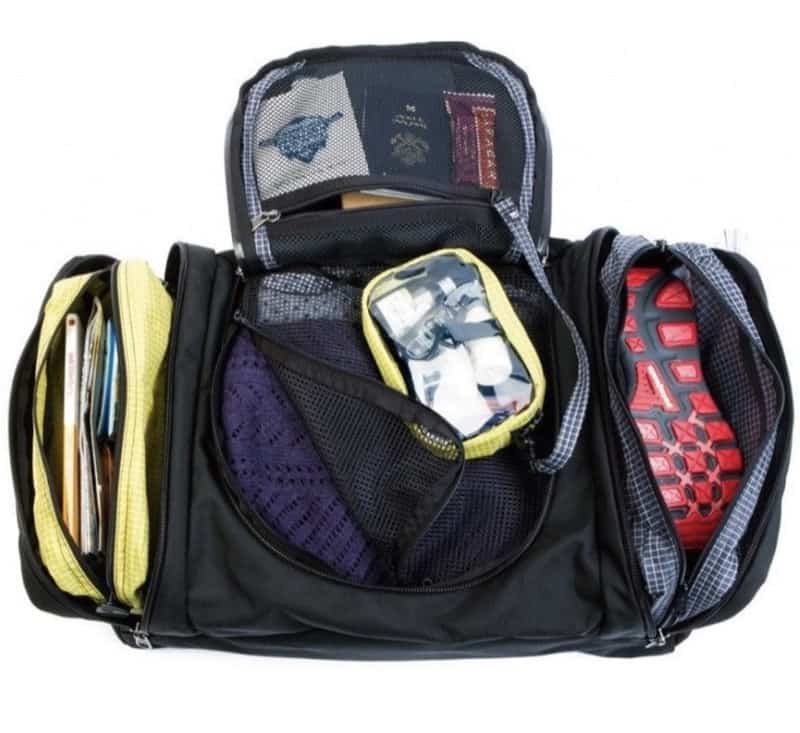 ---
---
Other Bags to Check Out:
The CTB40 from Evergoods is a mean, sleek and minimal bag for professional travelers and unique gear hauling jobs. Limited external access, but excellent to use with a second smaller bag.
A very stylish and functional bag for both urban and outdoor use that does not let us down in organization, durability and thoughtful design.
The Tortuga Setout Duffel is affordable and really durable duffel luggage built with tech organization, a security pocket, a shoe compartment, laptop storage and extremely ample exterior access.
The Travel Bag from Nomatic is a solid offering in one bag travel.
The Tristar from Tom Bihn is an excellent almost business-class duffel/backpack conversion bag that makes for excellent use in transit.