Cotopaxi Allpa 35L Travel Pack Review
"Soft & Durable"
The Allpa 35L travel pack from Cotopaxi is a well designed carry-on backpack with security features, solid organization and durable materials.
Can be a bit floppy or moundy depending on how you pack it because it is a soft-sided bag.
Clamshell opening with one large compartment and one medium sized compartment for clothing.
Medium sized pocket with internal organization accessible at the top front of bag, great for stuff you need in transit.
Laptop and tablet compartments. No false bottom, so be careful throwing the bag around.
No external water bottle pocket, however, there's a floppy add-on accessory available that works decently. Can also easily fit water bottle inside side-access of main compartment of bag.
---
Lots of inner organization. One main external access pocket. Breathable back panel. Stowable hip and shoulder straps.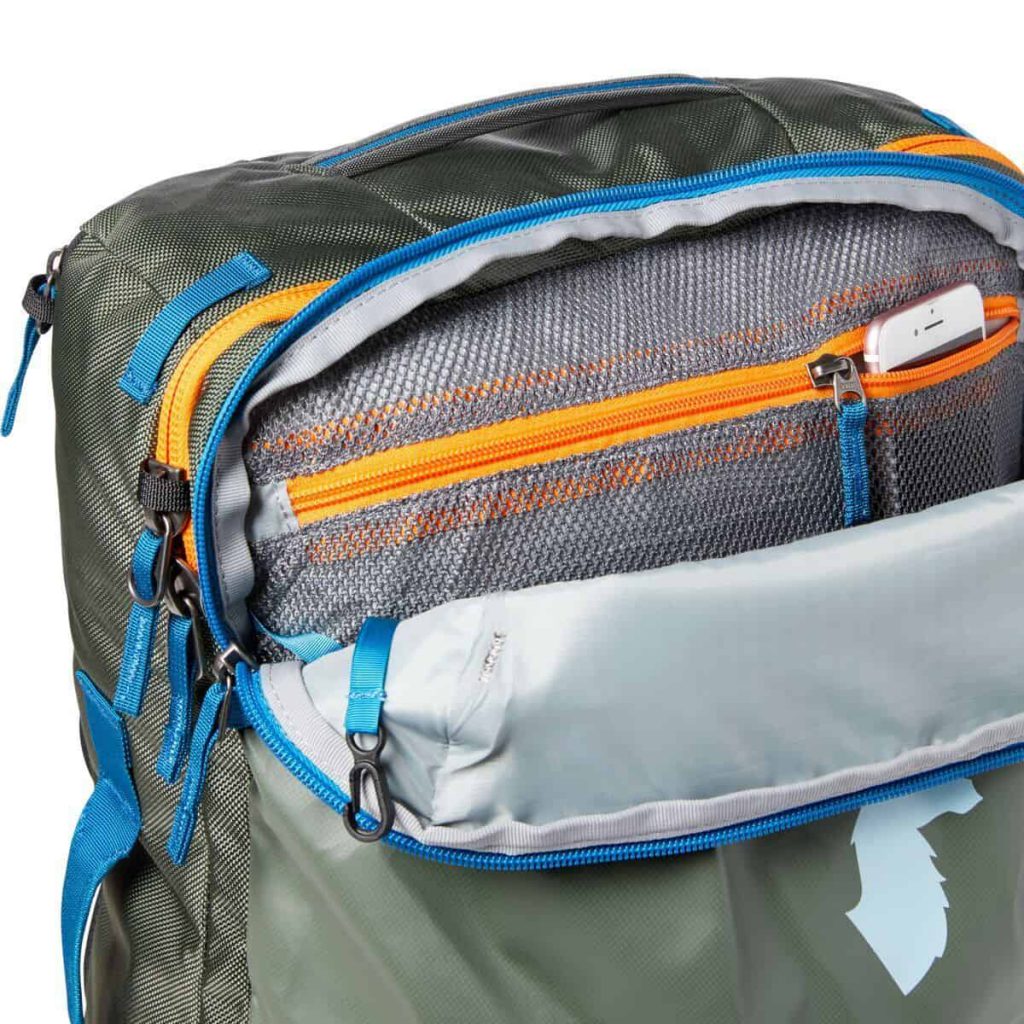 This sucker is made real well. And the warranty from this company is excellent. A lot of bag here for $200.
The bag is very soft-sided, so you will feel the moundiness of whatever you pack inside. Possible room for improvement is having a more rigid back panel to help distribute weight and provide more structure for the bag's floppiness.
The inner space is broken up into a couple different compartments. The main large compartment has external zipper access on port side up against the user's back.
---
Material Choice:Sub-Par Satisfactory Excellent
1680D ballistic nylon, 1000D TPU-coated polyester for the front panel. Mesh inside is standard (lots of mesh inside). Mesh on back panel feels nice.
Build Quality:Sub-Par Satisfactory Excellent
Feels, looks and performs like a standard build quality. I would entrust my trip to this build quality for sure. Lifetime warranty on this thing!
Water Resistance:Sub-Par Satisfactory Excellent
Optional rain cover. TPU-coated material on front is totally weather resistant. Large #10 zip can let water in, though, so that's why they have a rain fly for this thing.
External Access:Sub-Par Satisfactory Excellent
Top medium sized pocket is excellent. Besides laptop and side access to the main compartment, that's all you get access to, so make sure you put everything you need on the road in there. Water bottle accessory available (kinda janky in use, but does the job). All external zips have simple security feature to keep pick pockets out.
Internal Organization:Sub-Par Satisfactory Excellent
Segments the capacity of the bag into 3 main spaces: one large space (accessible via clamshell and side zip), one medium space for clothing (accessible through clamshell), one medium space for external access with a couple inner wall pouches inside.
Capacity:Sub-Par Satisfactory Excellent
Solid 35L of space, lots of room, nice organization/compartmentalization of the capacity. Too big for a Everyday Carry for me. Does get bulky/moundy when packed up because it's completely soft-shell bag.
Carry Comfort:Sub-Par Satisfactory Excellent
Shoulder and hip straps are built well, comfortable, can hide away. The back of the bag has nice breathable mesh. It's a soft bag, though, so whatever you pack is up against you. And the bag tends to take on moundy/bulky shapes depending on what/how you pack it. Excellent handle on top; grab handles all around.
Extra Score:Sub-Par Satisfactory Excellent
As a B corp they set aside 1% of profits toward addressing poverty and supporting community development. Lots of interesting projects that show this company has serious soul.
---
---
---
Similar Highly Rated Products: