Evergoods Civic Half Zip 22L Review
The Civic Half Zip (CHZ22) from Evergoods is a modern classic with just the right amount of organization and capacity executed with precision build quality and excellent materials.
---
Material Choice:Sub-Par Satisfactory Excellent
Really love these materials. Docked a point because I've heard from others that the way the external shell picks up lint/dirt has been a bummer for them. It definitely does; but I don't mind so much because it's such a slick performing material.
Build Quality:Sub-Par Satisfactory Excellent
The whole thing is like origami strength training. Really killer design and build on this thing.
Water Resistance:Sub-Par Satisfactory Excellent
Water resistant coating on both external and internal materials as well as the zippers.
External Access:Sub-Par Satisfactory Excellent
Quick access pocket is so big and easy to get in and out of. Two epic water bottle pockets made from double layers of 4-way stretch mesh designed for the outdoors industry.
Internal Organization:Sub-Par Satisfactory Excellent
Top inner pocket, laptop sleeve (pulled up off the bottom of the bag, padded), accessory loops.
Capacity:Sub-Par Satisfactory Excellent
Stuff-it design instead of a clamshell opening. (Thus the "half zip" name.) Can fit solid daily carry stuff in here, excellent visibility on the contents as well.
Carry Comfort:Sub-Par Satisfactory Excellent
Really comfortable straps and back panel. Though I've heard some say the fabric on the back can be abrasive to some kinds of clothing. Haven't reproduced results myself. I love how comfortable and responsive the harness system is on this bag.
Doesn't Look Weird:Sub-Par Satisfactory Excellent
Very regular looking. Maybe too regular looking? Love the black on black on black, tho.
Extra Score:Sub-Par Satisfactory Excellent
Giving Evergoods an extra point because they show *so much* design acumen on this thing. So many lovely details, and none of it preciously exhibited.
Perfect size, easy to get in and out of, great visibility, excellent materials. 
4 way stretch mesh feels great. Getting my 15″ laptop in and out of bag works great. 
Ergonomically designed straps and back panel are super comfortable. No mesh or air channels, so expect a little sweat. 
---
---
Other Bags to Check Out:
The second version of this bag is a welcome update, creating a much more stylish looking bag with plenty of organization for daily carry.
Smith the Roll Pack from Millican is a perfect eco-friendly rambler for daily adventures that's built excellently, has plenty of room for your stuff, but still looks good when it's not totally full.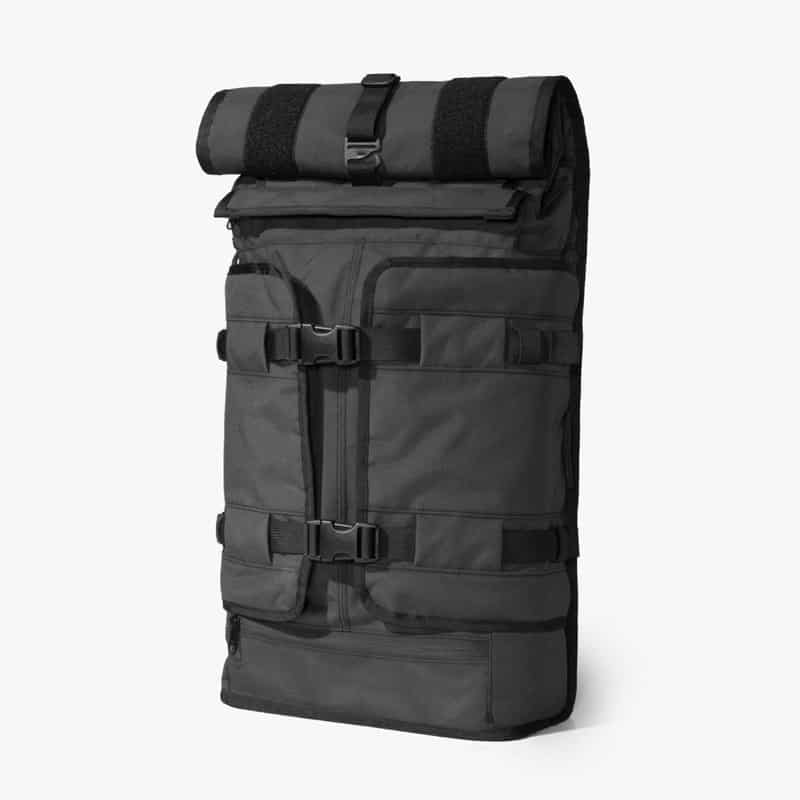 At first glance it looked weird. Then I used it for a couple days. Good god does this bag do it all well. Seriously, so much organization, so well built.
The Bravo 18 from Remote Equipment is a simple 18L bag featuring minimalist philosophies and strong design chops.