The Tristar from Tom Bihn is an excellent almost business-class duffel/backpack conversion bag that makes for excellent use in transit.
---
Material Choice:Sub-Par Satisfactory Excellent
Build Quality:Sub-Par Satisfactory Excellent
Water Resistance:Sub-Par Satisfactory Excellent
External Access:Sub-Par Satisfactory Excellent
Internal Organization:Sub-Par Satisfactory Excellent
Carry Comfort:Sub-Par Satisfactory Excellent
Doesn't Look Weird:Sub-Par Satisfactory Excellent
---
---
Other Bags to Check Out: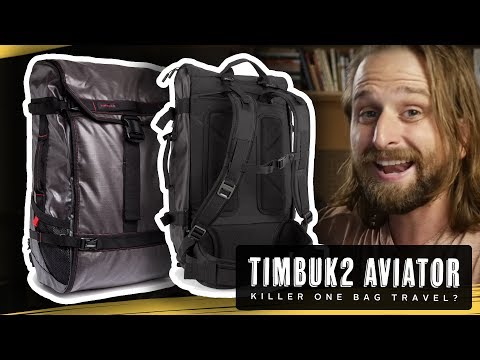 A medium-large sized travel bag with sturdy, rigid outer material, a couple external pockets and a removable internal divider that makes for actually a pretty interesting way of accessing things in transit.
I love how functional a solid rolltop bag can be, and this is one of my favorite rolltop bags.
The Outbreaker backpack from Tortuga is a solid 1-bag travel pick. I personally prefer the less bulky (and more spacious) experience of traveling with the Tortuga Setout, so be sure to check out that bag too. This Outbreaker, however, has quite a bit more padding and protection around the entire bag, so if you know you'll have delicate stuff inside you may prefer this one.
Ok, these bags from Nomatic are chock full of pockets. There are 2 different bags: the Travel Pack expands up to about 30L, perfect for short trips and minimal travel. The Backpack is 20-24L daily carry. Both are very sleek and, like I said, so many pocketzzz!
A really solid feeling bag with lots of pockets both inside and outside the bag and enough capacity for the minimal traveler.