Wandrd Prvke Rolltop Backpack Review
A very stylish and functional bag for both urban and outdoor use that does not let us down in organization, durability and thoughtful design.
The Wandrd Prvke (pronounced "provoke" or "perrrrvrkeeee") is a great bag for technical daily carry and minimal travel. Built rugged, good looking, water resistant with tons of pockets. It comes in 2 sizes — we like the 20L for daily carry and minimal travel and the 30L for bigger bodies and longer trips.
The rolltop expands to fit so much stuff! This is one of my favorite features of this bag. You can expand it to fit a literal ton of shit, and then, pull the shit out and roll it up so it looks like a regular bag again.
I also love the organization and accessibility of this bag. It has tons of little pockets hidden throughout, as well as zippered access to larger internal pockets. That Zippered access is a must for me on a rolltop because I find it annoying to roll and unroll the bag every time I need to get into it.
This bag does a great job of tech organization too. The laptop compartment, the optional camera insert, and the pockets throughout make it a seriously functional companion to the digital nomad.
And I have to say how rare it is to find a bag that you can both travel with AND use as a daily carry. It's similar to the Synapse 25 that way. And that's why these two are a couple of my favorite bags currently.
---
Material Choice:Sub-Par Satisfactory Excellent
The tarpaulin can feel a little rubbery, but it's hard core stuff. The ballistic nylon is great, as is the "neoprene" like material on the straps and back panel. The lining and lining-zips, however, feels somewhat off-brand to me.
Build Quality:Sub-Par Satisfactory Excellent
Solidly build. Not the prettiest or most crafts-man/womanliness of build (you'll notice in some corners it lacks elegance), but it's solid as hell and built to last.
Water Resistance:Sub-Par Satisfactory Excellent
Water resistance on this thing is solid. Lots of rolls in the nylon fabric up top, and the tarpaulin is literally what some boats are made of.
External Access:Sub-Par Satisfactory Excellent
Front pocket, quick access top pocket, water bottle pocket, a little secret side pocket, a secret back pocket. None of them are all that lovely to use, but they get the job done and keep the weather out.
Internal Organization:Sub-Par Satisfactory Excellent
There's some very unique ways to setup the internal organization on this bag (including camera cube integration). It can feel a little lackluster to use over time.
Capacity:Sub-Par Satisfactory Excellent
Rolltop means you can expand and carry lots or contract and shrink it up.
Carry Comfort:Sub-Par Satisfactory Excellent
Lots of padding. Laptop right up against your back.
Doesn't Look Weird:Sub-Par Satisfactory Excellent
This bag has a great look. It's one of the only serious tech/photography bags that pulls off this kind of look.
I find myself recommending this bag to many kinds of people still, several years later, because it satisfies a kind of "young but serious" aesthetic… made durable, solid organization, but it's got a solid, good look. 
The big one is pretty damn big on smaller frames. 
Optional camera inserts with side camera-access door make this a very unique bag for camera users. 
My 2 cents: the camera cubes are a little flimsy compared to others, but the bag certainly has a kind of "overall versatility" that is hard to find. (The protection + durability, the looks, the back padding, the rolltop, etc.)
There's a lot of interesting pockets around the bag. Of course, customizing where all your stuff goes and having it when you need it is the "more than just fun" part of finding a good bag. 
Hoping we'll see an upgrade to this thing soon with upgraded liner materials.
---
---
Other Bags to Check Out:
The Mountain Quickdraw is a 24L backpack from Evergoods featuring their ingenious backpack straps and epic materials.
This bag from Filson is easily one of my favorite briefcase-type bags due to it's excellent materials, organization, and classic aesthetic.
The Federate Adapt from Kathmandu converts between three separate modes: a 28L daily carry bag, a 38L carry-on travel bag, and a 50L check-in bag.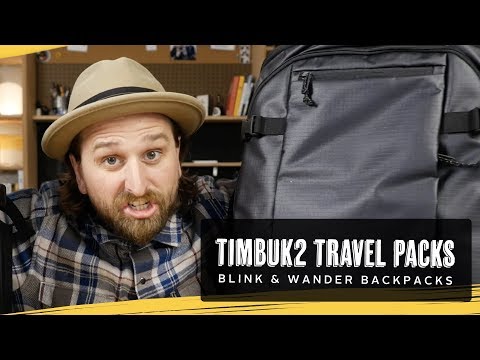 The Blink & Wander packs from Timbuk2 are tough, rigid little numbers for travel with unfortunately weak feeling zippers.
A thoughtfully designed backpack for modern career professionals who want a classy-casual aesthetic, rugged materials and solid organization.