Expensive, but it's got an amazing warranty. A simple, understated, powerful bag that will gladly see you through anything in life.
Unbelievable Build Quality: the quality of materials, sewing and construction on this bag is off the charts.
Excellent Warranty: the bag is bombproof, and the SCARS warranty is there for everything else. Basically, you never have to worry about this bag because they'll repair or replace it.
The Aesthetic is Killer: it just looks so good. Simple + sturdy, minimal + uncluttered, utilitarian + comfortable. Just a gorgeous looking/feeling bag.
Multiple Sizes: the bag comes in a few different sizes. I like the 21L for daily use and the larger sizes for minimal travel.
Daily Carry & Minimal Travel: the 26L is definitely doable for minimal travel!
A Life-Long Companion: this bag will be with you through SO MANY ADVENTURES. Buy one and forget about other bags for a couple decades.
Simple, minimal, tough, bulletproof, classy as f*ck. What more can I say? I wish there was a better quick access pocket and a little more organization, personally. But this thing is a life-long companion.
---
---
---
Other Bags to Check Out:
The Mountain Briefcase from Topo has been one of my favorite personal daily carry bags due to it's look and feel as well as the perfect size for my style of daily carry.
The 50L duffel from Aasgard is a very exciting idea — massive space in a weatherproof simple duffel with backpack straps. (The shoulder straps could use an update though.)
The Everyday Messenger from Peak Design is a delightfully innovative messenger, with the capabilities to be used as both serious office bag and adventure photography/drone bag.
The Everyday Sling from Peak Designs is a truly innovative, functional and delightful little sling with an insane number of thoughtful features for the size.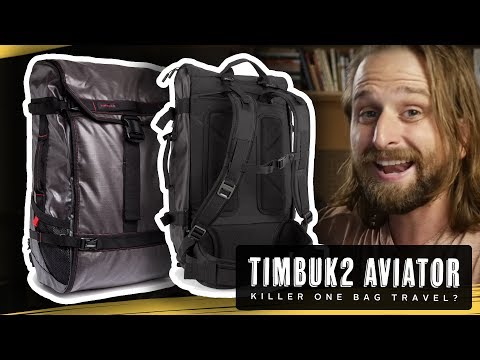 A medium-large sized travel bag with sturdy, rigid outer material, a couple external pockets and a removable internal divider that makes for actually a pretty interesting way of accessing things in transit.