North St. Weekender Travel Backpack Review
"Rugged. Organized."
The Weekender Backpack from North St. is a handmade bag from Portland, OR purpose built for water resistant minimal travel. Solid external organization + materials, detachable daypack accessory.
Note from founder of North St.:
"I grew up spending summers at the family cabin in the Adirondacks, which was only accessible by boat. Wheeled luggage didn't make sense, so we used a lot of packs and duffles to haul our gear across the lake. Getting to that cabin today involves a cross country flight, a rental car and usually a few business stops and client meetings along the way, and I need a pack that performs flawlessly in any of those scenarios.

The original concept for the Weekender Backpack was as a carry-on that could expand using a modular attachment system (works in tandem with the Weekender Meeting Bag), but also shrink to a sleek profile for every-day use.

It includes all the major components like a separate laptop compartment with false bottom, and a center-mounted bottle sleeve to keep the weight distributed evenly, and stow-able straps for TSA or the overhead bin. I also had to make sure it fit with North St's usability standards. It had to function well in many environments, and transition well from one to the next.

I settled on the clam-shell closure to easily pack a few days worth of clothes (28L total capacity). I also included 2 front pockets for smaller items and an accessory pocket on the top of the bag. The whole thing collapses down to a slim profile by way of 4 side compression straps, which allows you to streamline the pack for everyday use.

The material choices were very intentional as well. I wanted to keep the construction fairly simple, so I opted for a single layer build using fabrics from our sailcloth supplier. The fabric is ultra-durable and waterproof to keep the rain (and spray) out. We also use water resistant #10 zippers for the main closures, and designed the construction to be as durable as possible, making this a bag that will serve for many years.

I couldn't be happier with this pack's versatility. It's my go-to for any trip, and I often use it as my everyday carry as well. I highly recommend it for work, travel, everyday, or all of the above."
---
---
---
---
---
Similar Highly Rated Products: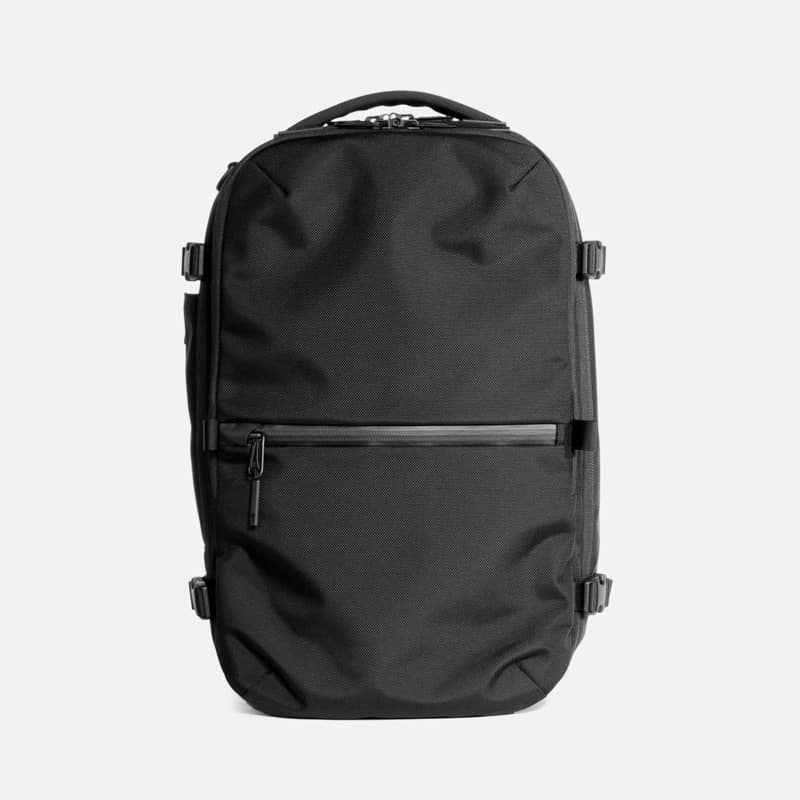 Aer Travel Pack 2.0
Organized. All black.