North St. Weekender Travel Backpack Review
"Rugged. Organized."
The Weekender Backpack from North St. is a handmade bag from Portland, OR purpose built for water resistant minimal travel. Solid external organization + materials, detachable daypack accessory.
Note from founder of North St.:
"I grew up spending summers at the family cabin in the Adirondacks, which was only accessible by boat. Wheeled luggage didn't make sense, so we used a lot of packs and duffles to haul our gear across the lake. Getting to that cabin today involves a cross country flight, a rental car and usually a few business stops and client meetings along the way, and I need a pack that performs flawlessly in any of those scenarios.

The original concept for the Weekender Backpack was as a carry-on that could expand using a modular attachment system (works in tandem with the Weekender Meeting Bag), but also shrink to a sleek profile for every-day use.

It includes all the major components like a separate laptop compartment with false bottom, and a center-mounted bottle sleeve to keep the weight distributed evenly, and stow-able straps for TSA or the overhead bin. I also had to make sure it fit with North St's usability standards. It had to function well in many environments, and transition well from one to the next.

I settled on the clam-shell closure to easily pack a few days worth of clothes (28L total capacity). I also included 2 front pockets for smaller items and an accessory pocket on the top of the bag. The whole thing collapses down to a slim profile by way of 4 side compression straps, which allows you to streamline the pack for everyday use.

The material choices were very intentional as well. I wanted to keep the construction fairly simple, so I opted for a single layer build using fabrics from our sailcloth supplier. The fabric is ultra-durable and waterproof to keep the rain (and spray) out. We also use water resistant #10 zippers for the main closures, and designed the construction to be as durable as possible, making this a bag that will serve for many years.

I couldn't be happier with this pack's versatility. It's my go-to for any trip, and I often use it as my everyday carry as well. I highly recommend it for work, travel, everyday, or all of the above."
---
Though it can get a little frumpy when packed out.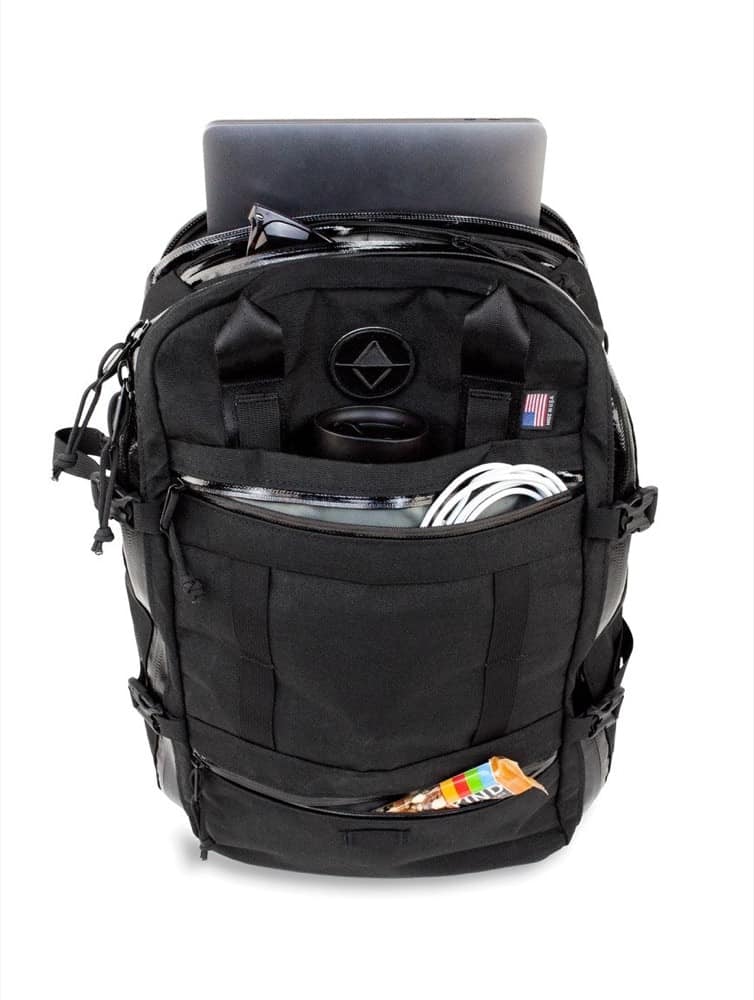 Two front external zipped pockets (the bottom one is quite slender). Water bottle pocket with internal magnet button-clip (behind the upper pocket). Top quick-access pocket. Laptop pocket with false bottom for protection.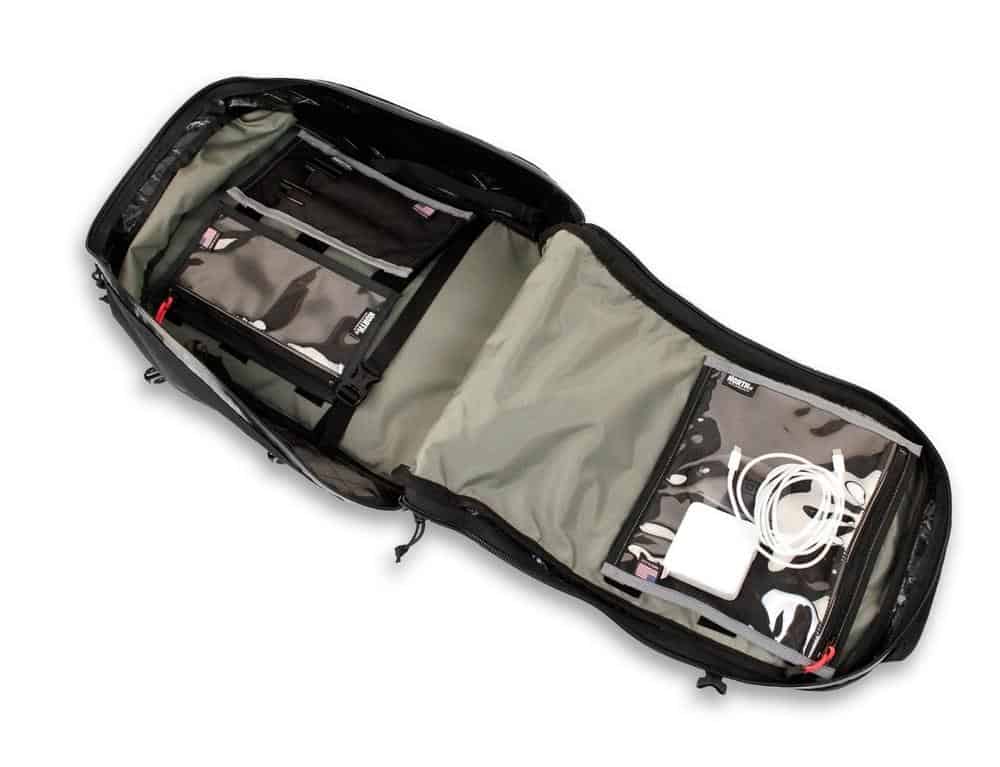 Also boasts some customizable internal organization. Velcro straps allow you to place accessories how you'd like. Inside also has straps to hold down your clothing/packing cubes.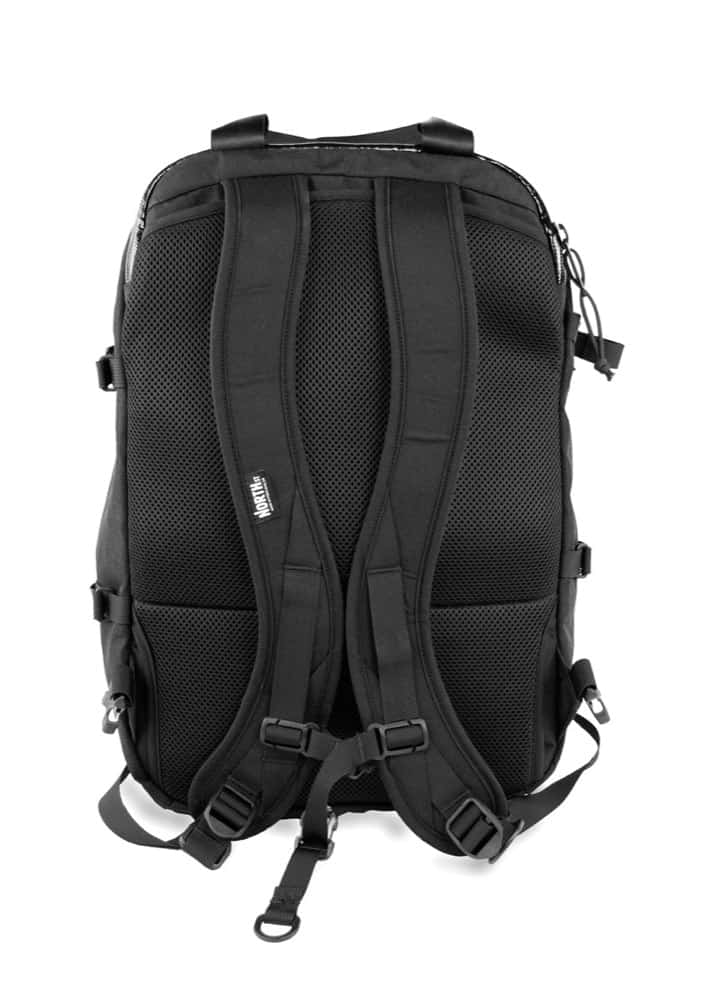 Some may feel the straps aren't padded enough. I like the minimal look of them and didn't find them too uncomfortable. I'd prefer a little more padding on the straps and a little more structure to the back of the bag.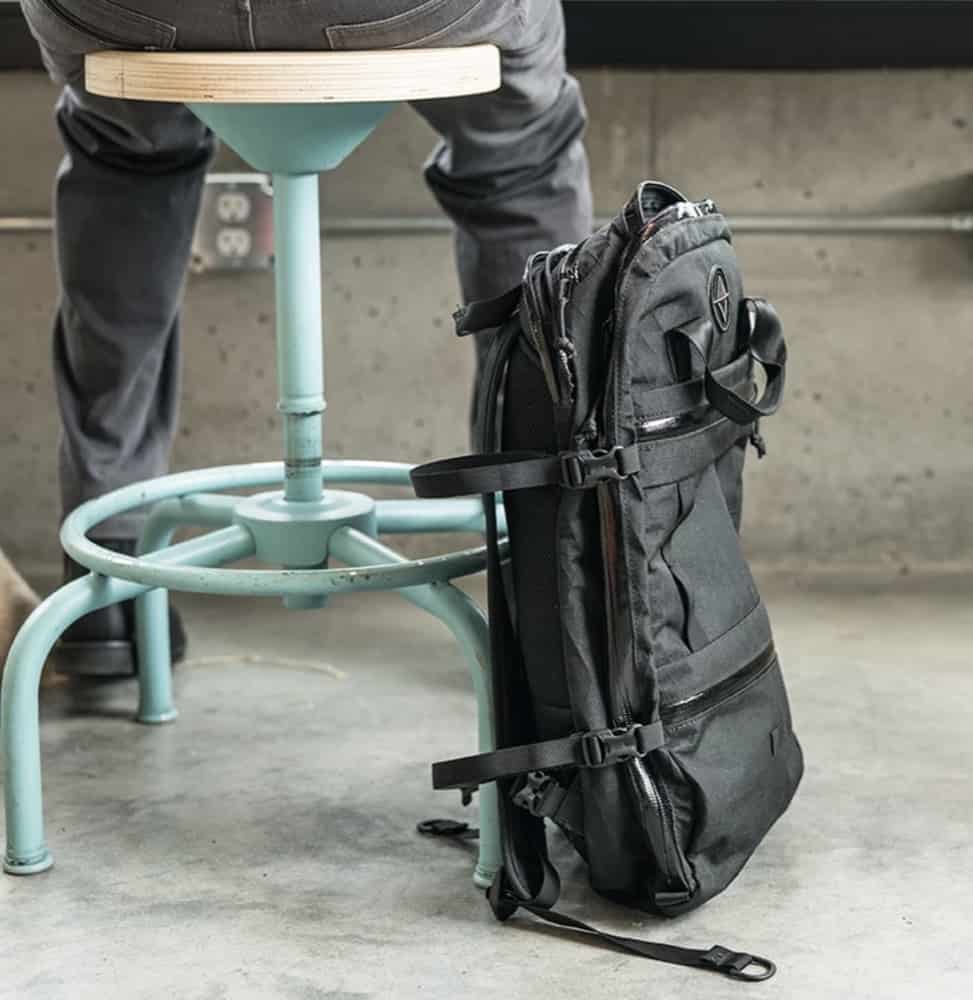 This bag is actually doable as a hybrid travel/daily-carry bag. It's a little larger than I like for daily carry, but for when you just want to bring one bag, it's a jack of all trades.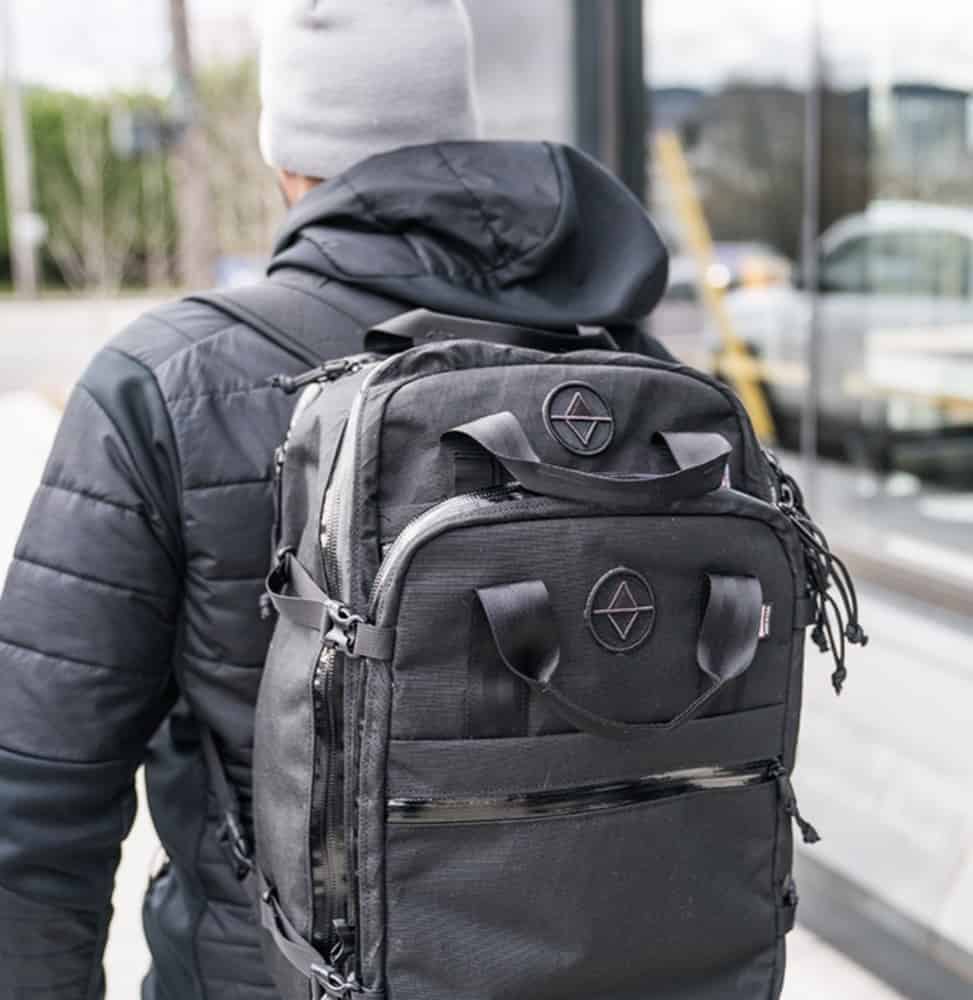 ---
Material Choice:Sub-Par Satisfactory Excellent
Materials are killer! Waterproof x-51 X-pac. Single layer build with this sturdy ass material. #10 water sealed Lenzip zips. Excellent liner material.
Build Quality:Sub-Par Satisfactory Excellent
Handmade in Portland, OR. Lifetime guarantee. What more can be said than that?
Water Resistance:Sub-Par Satisfactory Excellent
The entire shell, including the zips, is water and weather repellant. The X-Pac fabric is actually water PROOF. There is a water bottle pocket in the middle front of the bag that could get some rain in it. Not a huge worry for me.
External Access:Sub-Par Satisfactory Excellent
Lots of pockets. I wish they were a little easier to see into and get my hand into in some places, but it's excellent to have this kind of organization on the outside of the bag.
Internal Organization:Sub-Par Satisfactory Excellent
Velcro straps for customizing the internal org of the bag with accessory pouches.
Capacity:Sub-Par Satisfactory Excellent
I give this extra marks here because it looks small, but performs like a larger bag. It's 28L but it feels like 32L when you pack it. Doable as a Everyday Carry bag when you compress the compression straps. Would love to be able to open the bag without unclipping the compression straps.
Carry Comfort:Sub-Par Satisfactory Excellent
It's 28L capacity means it's lighter than over-stuffed larger bags. The straps are on the stiff and minimal side. Some folks will dislike that. Nice curvature and sternum strap and stow-ability of the shoulder straps, though. Tote handles are essential on this bag, could use a little softer hand-feel than the sewed edge of the nylon.
Extra Score:Sub-Par Satisfactory Excellent
Extra score for the ability to clip on the smaller Meeting Bag. That thing is killer for a little rambler around town.
---
---
---
Similar Highly Rated Products: